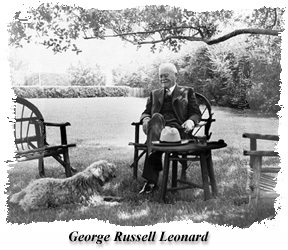 G.R. Leonard & Company was founded in 1912 by George Russell Leonard, who was born in Nailsworth, England in 1867. He came to the United States in 1886, and in 1912 conceived the idea of a guide providing rates and routing for use in shipping rooms. He established G.R. Leonard & Company, giving birth to the first Leonard's Guide publication.
More than 100 years later, G.R. Leonard & Company remains focused on Mr. Leonard's idea of providing important, relevant and useful information in an easy-to-use format to meet the needs of today's shipper, freight transportation, logistics and warehouse company. Though we have expanded to become a nationwide concern, serving companies in all 50 states, every province in Canada and several other countries, G.R. Leonard & Company remains focused on the principal set forth by our founder.
We will continue to strive to meet the current needs of those that we serve by further expanding and improving the services that we provide. We pledge to continue our long tradition of service to the industry that we know best, the dynamic and ever changing shipping and freight transportation world.